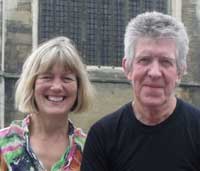 We love meeting and talking to our guests from New Zealand and all over the world.
Our accommodation allows us to share this wonderful area.
If privacy is your thing, a quick hello will do.

David is a local having been born and raised in Dunedin. He has a background in Natural Sciences, involvement in local biodiversity and works at the Royal Albatross Centre.
Alison is originally from the UK, but New Zealand has been home for over 30 years. She has a background in hospitality and interior design.